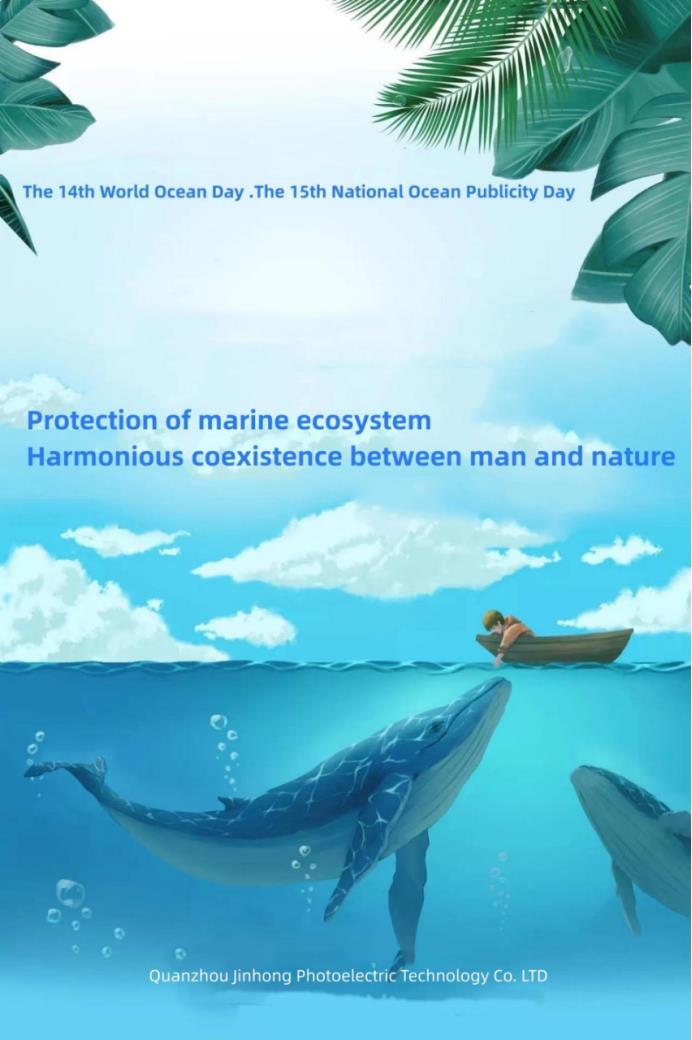 May 2022 June 1 this year, June 8 is the 14th "World Ocean Day" and the 15th "national ocean Publicity Day". In order to deeply study, publicize and implement the national concept of ecological civilization, establish and practice the concept of harmonious coexistence between man and nature, enhance people's marine awareness, guide the public to protect marine ecology, and help build a marine power. Quanzhou Jinhong Photoelectric Technology Co., LTD., as the industry leading company in the Manufacturer of squid fishing lights, we will organize theme publicity activities. The relevant matters are hereby notified as follows:1. Activity theme
"Protect the marine ecosystem and ensure the harmonious coexistence between man and nature".
2. Activity content
New media products will be produced and broadcast around the theme of the event, and a series of publicity activities will be jointly carried out with member units of the public welfare cooperation plan for nature conservation and ocean related universities. Please forward and participate actively. And call on more people to participate in the action of protecting the marine environment.
In combination with your own actual situation, colleagues have strengthened the coordination and cooperation with relevant departments and units such as publicity, e-mail, education and social organizations. According to the local epidemic prevention and control requirements, they have planned and carried out various forms and rich content of publicity and education activities around the theme of the activities by combining online and offline methods, so as to attract the participation of the general public.
Actively respond to the organization and coordination requirements of the North China Sea Bureau, the East China Sea Bureau, the South China Sea Bureau and other government departments, and support relevant units to carry out characteristic publicity activities.
We produce marine fishing boat accessories and ocean fishing LED lights 、metal halide underwater lights、Japanese quality ballast for fishing lights、and best squid green fishing lamp .We also provide customized 0cean fishing lamps service for customers.
At the same time, we also need to protect the marine environment. Let the fish have a healthy growth environment. So that all people who like marine food can enjoy the gifts of the sea for a long time. Make more contributions to mankind.
All units are requested to sort out and summarize the activities in time, and feed back the photos, videos, texts, media reports and other materials of the activities to the administrative center of the company before June 5. The selected materials will be rewarded by the company!
Jinhong Marine Fisheries Bureau
May 28, 2022
---
Post time: Jul-22-2022